Lizia Lim is an Accredited Specialist in Wills & Estates and a Doyles Guide "Recommended Lawyers" in both Wills & Estates (estate planning) and Estate Litigation. Her advice covers primarily Victorian laws, but she has experience running litigation in New South Wales, Queensland and Western Australia as well.

Experience
Estate Litigation:

Claims for further provision from estates pursuant to Part IV of the Administration and Probate Act 1958, for example:

Claims by adult children who have been left out of their parent's Will.
Claims by stepchildren who have been left out of their stepparent's Will.
Claims by spouses or de facto partners for greater provision from their deceased spouse's estate.

Challenges to Will validity, including on the grounds of lack of testamentary capacity and undue influence.
Applications to remove executors.
Applications to force inactive executors to prove a Will or renounce Probate.
Providing independent advice and representation to executors who are in dispute with their co-executors.
Making claims for superannuation death benefits and representing parties in the Superannuation Complaints Tribunal.
Applications for executor's commission.
Applications to recover money/assets misappropriated from an estate or a person with a disability by an attorney or a relative.
Applications to recover land transferred by a deceased person during their lifetime where the deceased lacked capacity to make the transfer or were unduly influenced.
Recent reported cases:

Re Rattle [2018] VSC 249 – Acting for Equity Trustees in an application for Probate of a Will which was signed with only one attesting witness.
Re Rattle (No 2); Equity Trustees Ltd v Halstead [2018] VSC 700 – Acting for Equity Trustees in relation to an application regarding the construction of a Will in circumstances where the sole beneficiary of the Will murdered the deceased and the forfeiture rule was applied.
Sisson v Wharton & Young [2018] VCC 436 – Representing two adult daughters in a successful Part IV claim for provision from the estate of their late mother.
Hall v Hall & Ors [2018] VSC 692 – acting for an independent administrator in relation to a family dispute involving two deceased estates, four family trusts and five family companies, in which a scheme of family arrangement was able to be obtained, equalising the benefits received by the deceased's three sons.
Re Hancock; Rennie v The Whippet Association of Victoria Inc [2016] VSC 496 – successfully defending an application for Probate of a completed solicitor's Will instruction form signed by the deceased.
Ligeti v Ligeti [2016] VSC 448 – successfully defending a Part IV claim for provision by an adult daughter from her father's estate.
Estate Planning:

Preparing Wills and Enduring Powers of Attorney (Financial, Medical and Personal).
Providing estate planning advice and bespoke solutions, including in large complex estates.
Advising in respect of difficult family situations, including blended families, second marriages, disabled beneficiaries, beneficiaries with bankruptcy/family law issues and estranged relatives.
Preparing loan agreements to beneficiaries.
Advising in relation to minimising risk of future claims against the estate.
Probate and Estate Administration:

Acting for executors/administrators in applying for Grants of Representation, including complex applications in relation to informal Wills, unsigned Wills, missing Wills, and copy Wills.
Obtaining Victorian reseals of foreign/interstate Grants of Probate.
Attending to all aspects of estate administration, including collecting, realising and distributing estate assets, and advice regarding executor's duties/obligations.
Preparing Deeds of Family Arrangement to vary distribution of the estate by consent.
Advice in relation to life interests and settled land.
Advice in relation to insolvent estates.
VCAT Guardianship:

Regularly appearing in VCAT in relation to disputes regarding the financial and personal affairs of a living person who has lost capacity, such as disputes over powers of attorney, financial administration and accommodation/care of the person.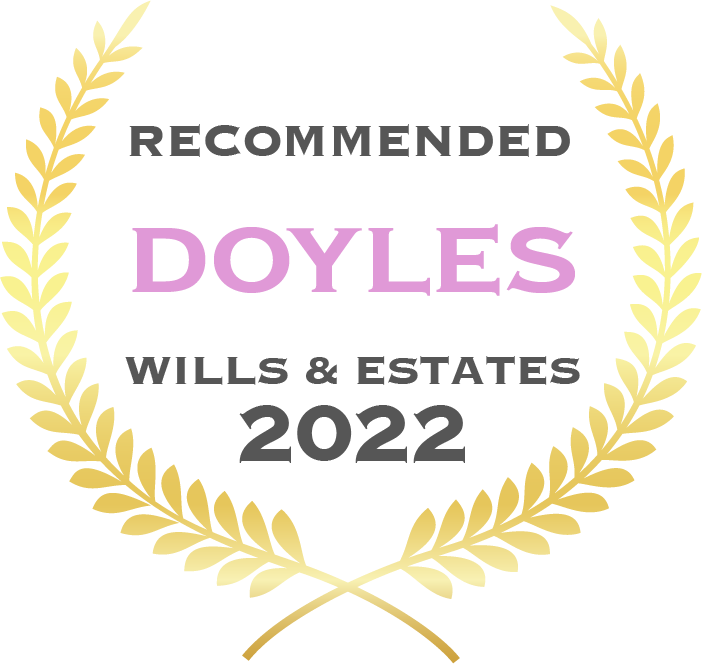 Memberships
Law Institute of Victoria
Society of Trust and Estate Practitioners (STEP)
Asian Australian Lawyers Association
Victorian Women Lawyers
Committee involvement
LIV Succession Law Committee
County Court Family Property List Users Group
Society of Trust and Estate Practitioners (STEP)
Asian Australian Lawyers Association
Awards
LIV Accredited Specialist in Wills & Estates 2014-present
Doyles Guide Recommended Lawyer Estate Litigation 2017-2021
Doyles Guide Leading Lawyer Estate Litigation 2022
Doyles Guide Recommended Lawyer Wills & Estates 2017-2022