Electronic signing and witnessing of Wills, Powers of Attorney and Statutory Declarations
Wills and Estates: 14 May 2020
Further to the COVID-19 Omnibus (Emergency Measures) Act 2020, on 12 May 2020, the COVID-19 Omnibus (Emergency Measures) (Electronic Signing and Witnessing) Regulations 2020 ('the Regulations') were passed in Victoria.
The Regulations allow for the electronic signing and witnessing in Victoria of:
Statutory Declarations
Powers of Attorney
Wills
Electronic signatures on wills and powers of attorney are now permitted.
It is important to note that two witnesses are still required for wills and powers of attorney. Further, when documents are electronically signed and witnessed, both the signing and witnessing must all occur on the same day.
With Powers of Attorney, the witnesses are required to sign in the presence of the principal and of each other. Therefore, if both witnesses to a Power of Attorney are witnessing by audio visual link, a three party audio visual link will be required. Statements of Acceptance on Powers of Attorney can also be signed and witnessed by audio visual link.
It does not matter how a copy of the document is transmitted between the testator/principal and the witnesses. Any method such as scan and email, fax or messaging service will be sufficient. However, it will be important to maintain sufficient image quality so the document is still legible.
Interestingly, the Regulations do not apply to Appointments of Medical Treatment Decision Maker(s).
If the process set out in the Regulations is not followed correctly then it is likely to result in an informal Will, or an invalid Power of Attorney. This may require a later application to Court to admit to probate an informal will, or an application to VCAT to determine validity of power of attorney.
Should you have any queries about electronic signing and witnessing of Wills and Powers of Attorney, please contact the Wills & Estates team at Aitken Partners, Level 28, 140 William Street, Melbourne, Victoria 3000. Phone: 03 8600 6000.
The following flow charts provide an outline of how to electronically sign and witness a will and power of attorney.
Flow chart of electronic signing and witnessing of a Will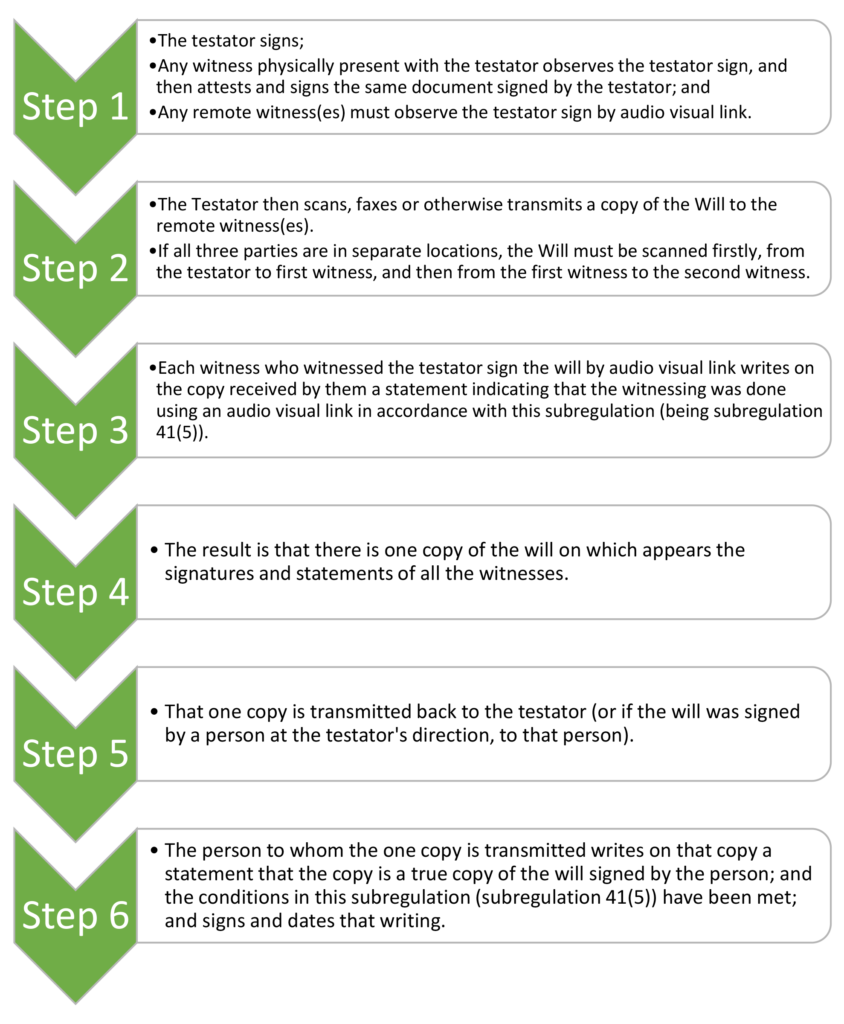 Flow chart of electronic signing and witnessing of a Power of Attorney